Resort living, 365 days a year.
Purchasing a home in Tera Miranda Shores is much more than a real estate transaction. It's a lifestyle choice. Inside the gates of our private community, you'll enjoy beautiful scenery and a wealth of resort amenities that enrich your life with each and every moment. Cruising the waters of Grand Lake. Pulling bass from a top secret honey hole. Chipping in from the sand on 18. Enjoying dinner and a view of the setting sun. Or just swapping stories on the pool deck with friends and family. These memorable activities are how you'll spend your time. Your next decision is where.
Life is full of choices. In a good way.
Whether your home is a primary residence or vacation getaway, at Tera Miranda Shores you'll enjoy every minute of the lifestyle you've worked so hard to achieve. The home you choose will play a profound role in that lifestyle. Prices from $180k-$600k. To enjoy a virtual tour of our model homes, click on the photos below. Or click the Homesites button to view our plat map.
A true home is a reflection of its owner.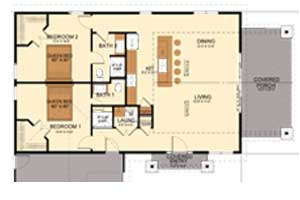 What is a home? A building with walls, doors, windows and a roof? No, it's the place where life happens. The location, floor plan, features and building materials all combine to create a space that is suited for the life you intend to live there. The homebuilders at Tera Miranda Shores understand this, and work hard to ensure that when you turn your house key, you're opening the door to your dreams.
To envision the customizable living spaces available at Tera Miranda Shores, click the button below, then explore the floor plan diagrams toward the end of the flipbook.